How to install CertGear Software on Mac OS X (Go back)
Platform:
Mac OS X
OS Version:
10.7.x (Lion) -> 10.10.x (Yosemite)
Overview
In order to install CertGear software on a Mac, you may need to install the Java Runtime Environment. By default, OS X Lion / Mountain / Yosemite no longer includes a Java Runtime Environment (JRE).
Once the Java Runtime Environment is installed, you may also need to manually adjust your
Security and Privacy settings
and
enable the Java Web browser plug.
Installation of Java for OS X Lion -> Yosemite

Please download the latest
Java Runtime here.
Once you install Java, you may need to also enable it by following
these instructions
.




Enabling the Java Plugin and Web Start applications
To enable the ability for CertGear Applications to open up within Safari and FireFox, you must perform the following steps. These steps only have to be done once.
Quit all open browsers running on your Mac
Click on the desktop so that you see the word "Finder" on the top left.
Click on the Go Menu and select Utilities
Double click on the Java Preferences icon



In the General tab, check Enable applet plug-in and Web Start applications



Quit the Java Preferences app and restart your browsers


Adjust Security & Privacy Settings
By default, a Mac running Mountain Lion or later will bock the installation of apps that are not from the Mac App Store or created by identified developers.
Hence, you may encounter the following error when installing the CertGear application: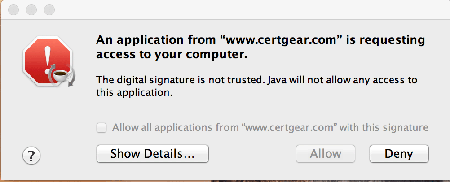 If you encounter the error above, please perform the following steps:
Click the System Preferences icon on your Dock




Click the Security & Privacy




Click the lock in the bottom left of window - Enter your password when prompted. Then click Unlock




Click the box next to "Anywhere".




You may also need to update your Java Control Panel settings from your System Preferences menu.




Please add "http://www.certgear.com" to your Exception Site List.




Once the settings have been updated, save the CertGear software (*.jnlp file) to your Mac.




To start the software, hold down the CONTROL button and then click on the CertGear software (*.jnlp file) and click "Java Web Start" when prompted.